Welcome to Jeannie's Designs!
Phone: 631-696-2663
Cell: 631-948-2660
jeanniesdesigns@verizon.net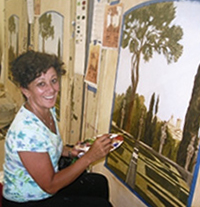 From murals to faux finishes, from trompe l'oeil to tiles and furniture, murals and more, we do it all!

Jeannie illustrates a passion for Decorative Painting ranging from Wall Murals and Paintings, Ornament, Ceilings, Floors, Furniture, Tiles to Faux Finishes and Plasters. All her work is custom tailored to express her client's interests and personalities, as well as the mood they want to create. She is fortunate to live on Long Island which keeps her in close proximity to her loyal clients, which reach from Manhattan to Montauk, and the Tri-state area. She has had a long career of continuous growth, which exemplifies her enthusiasm for each project, no matter how small or large. A professional and personal bond is nurtured throughout each and every project.
It is my mission and passion to create ambiance in a space that pleases the senses with color, texture and creativity.
Recent Awards & Features
---